Back in October I received a phone call from a guy who was looking for a retoucher. He had been told that I was the best in the area. Barnaby said that they'd been to a photographer to get portfolio shots for his girlfriend Cheryl. He understood that even professional photographs needed work to get them looking great, but the photographer they had used didn't offer that service. I arranged for an informal consultation that would allow me to look at the photos so i could quote a price to edit eight images.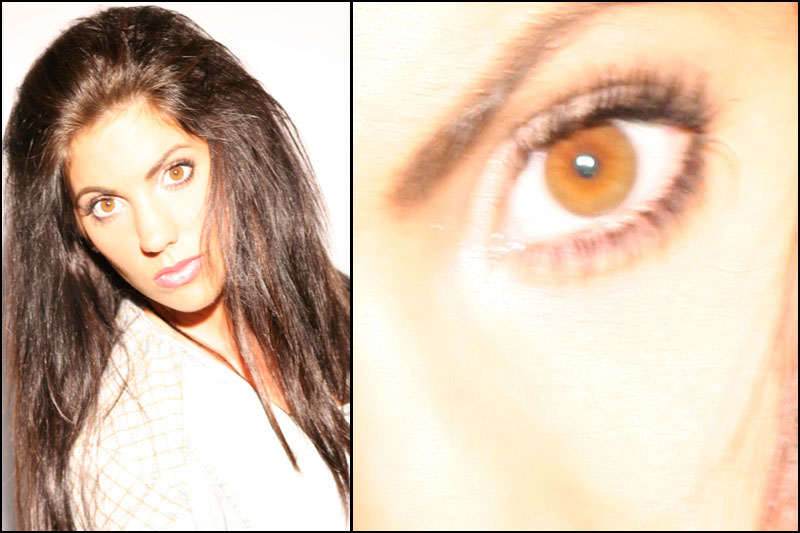 Overexposed and using constant light has forced slow shutter speed causing camera shake.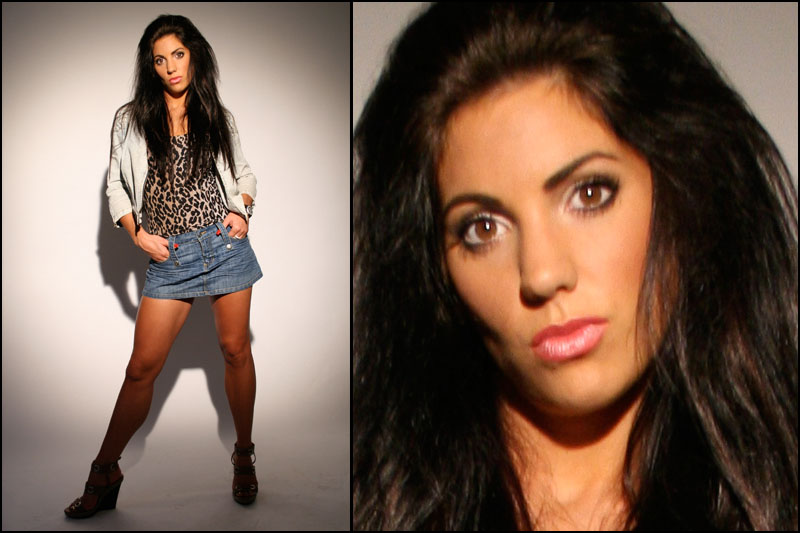 Uneducated in how light acts and using constant light has forced slow shutter speed causing camera shake.
Cheryl and Barnaby arrived with the disc and I took a look at the photographs.. to say they were professionally taken would be a lie. Whoever took the photographs has no knowledge about light! Lighting is a principal factor every photographer needs to understand in order to produce professional photographs. As for the posing.. well, lets just say if I was turning work like this I wouldn't call myself a pro! For the large outlay that they were charged to get these shots, I say they were robbed!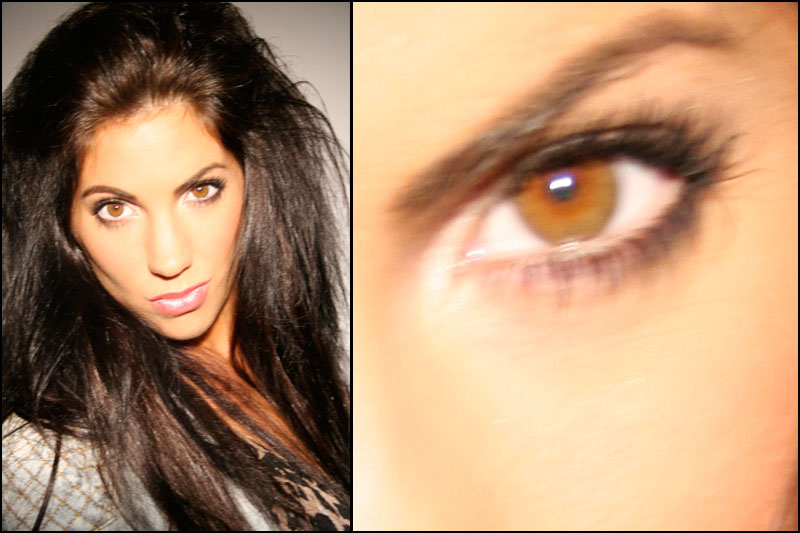 Overexposed and using constant light has forced slow shutter speed causing camera shake.
Looking through the shots a couple of times, I flagged half a dozen or so that I judged could be salvaged given time. After talking with Barnaby and Cheryl while looking at the shots, I asked Cheryl if she had been given feedback on how she looked and how the photographer had asked her to pose. Cheryl said that all the photographer had told her was to stand how she felt she should. This surprised me, so I asked if she had told the photographer that she had never done anything like this before. Again I was surprised to hear that they had told the photographer this was her first photo-shoot.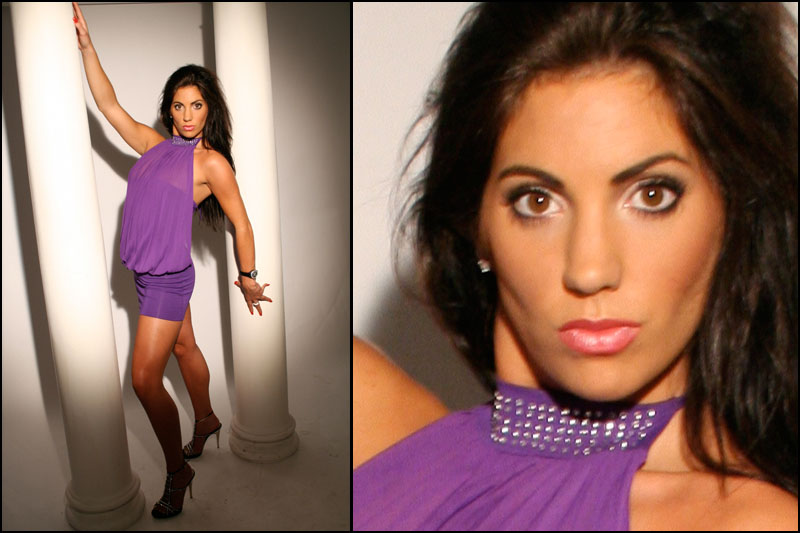 A very unflattering pose and using constant light has forced slow shutter speed causing camera shake.
Barnaby asked me for my open opinion on the photographs (I guess I might have flinched a couple of times while looking at the shots). When he requested to see my work I showed them a sample of my portrait work. I talked them through the workflow of how I shoot and he asked me how much I would charge for a re-shoot.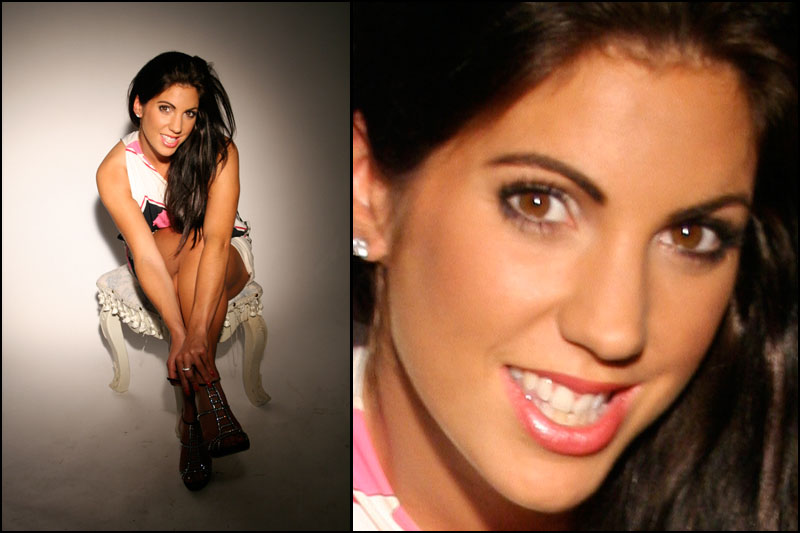 Again lack of knowledge in light and using constant light and low ISO has forced slow shutter speed causing camera shake.
We scheduled a full day of shooting. Barnaby said he could get us a room in a 5 star hotel on the coast, so that was a potential win for the shoot already. I asked Cheryl to put together a bunch of clothes and suggested a couple of styles she should try and get as well. We then arranged to meet up at Barnaby's office, which had a large meeting table so I could look though Cheryls' wardrobe choices and pick the best ones for the day.
We met at the office in Ringwood, and walking through to the meeting room where Cheryl had laid out her clothes on the table. We walked through the library and its 100's of law books, some dating back as far as 1870! it felt a great place to shoot. So after we'd been through the clothes I asked Barnaby if it would be possible to shoot in the library. He said that if I thought it was a place to shoot, then he would make it happen.
Next I contacted a Makeup Artist (MuA), Sarah Jenkins as I needed to guarantee she was available for the day we planned, luckily for me she was. Unfortunately the date fell through due to nasty weather (typical of English weather to always spoil plans). A new date was fixed with Sarah being available, but 2 days before, I got a text from Barnaby saying that the hotel was no longer available as they were booked up. Not a good way to start a shoot, but he said that he was going to arrange for another hotel for us to start the day.
Day of the shoot:
08:00 – weather not looking so hot, why can't these weather forecasters get it right..
08:20 – camera gear checked, batteries charged with spares packed. Set off into Bournemouth.
08:45 – I pick up Sarah, but still no word from Barnaby about hotel. At the last minute he texts us with an address.
08:55 – We hot foot it over to the local. From the outside it seems a decent enough hotel. We head into the foyer without moving any gear yet (not until i get a chance to look at the location). While Barnaby arranges a room, I get the gear. We head up, looking around the room its not the best in the hotel. Barnaby and I agree that the setting isn't right. The weather hasn't improved, that kills chances the of doing anything on the beach. So Barnaby gets on the phone, 5 minutes later we're heading out of Bournemouth to a freind of his. Unfortunately there is a small time delay before we can actually go.
09:50 – We're heading toward Castle Point (a shopping centre just outside Bournemouth) for a drink in Thorntons who have a cafe section.
10:15 – Hot drinks in the Thorntons. Barnaby tells a couple of dodgy jokes and we chat about the histories of our professions.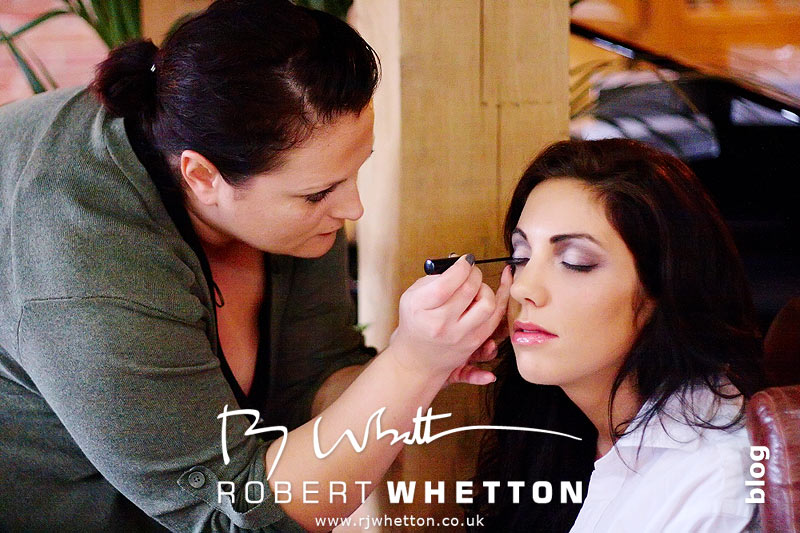 10:45 – We're at Barnaby's friends house. Its a converted cattle shed, with so many angles and textures making it a photographers dream! After a quick tour of the house, I get the gear from the car and start unpacking, Glancing at Cheryl's clothes I suggest that we start with casual-wear to get her warmed up to being in front of the camera and more importantly getting used to me taking her photograph and giving her instruction. After Sarah finishes her makeup and hair we start at the pool table with a high ceiling which means that I can boom a light over the table.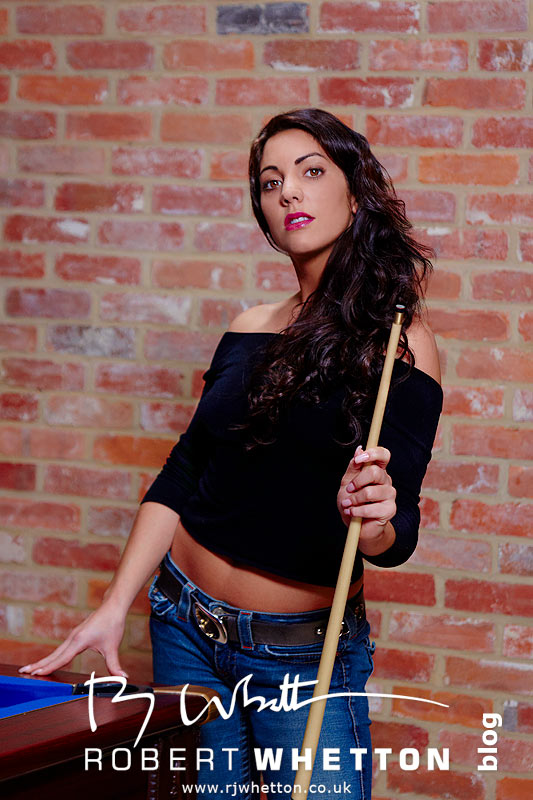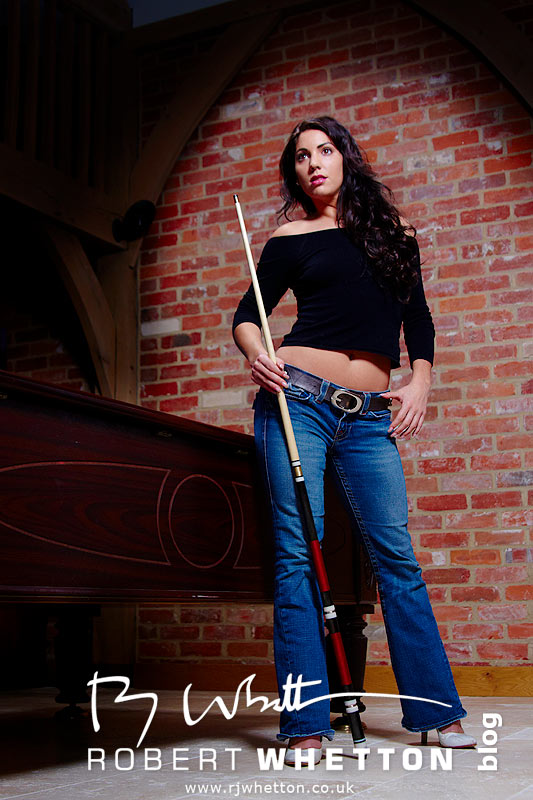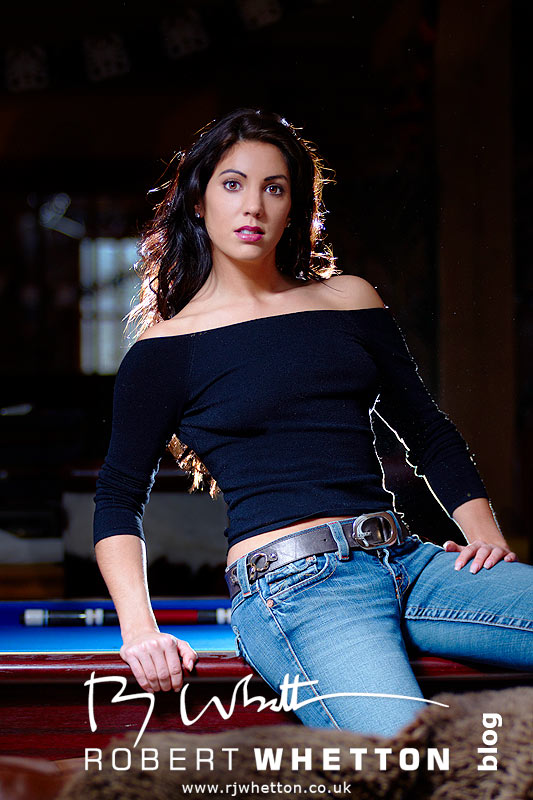 After the pool table we move to the large sofa. 40 minutes into the shoot it is time for a change of scene. In the corner of the living room is a spiral staircase, its perfect for the next series of shots.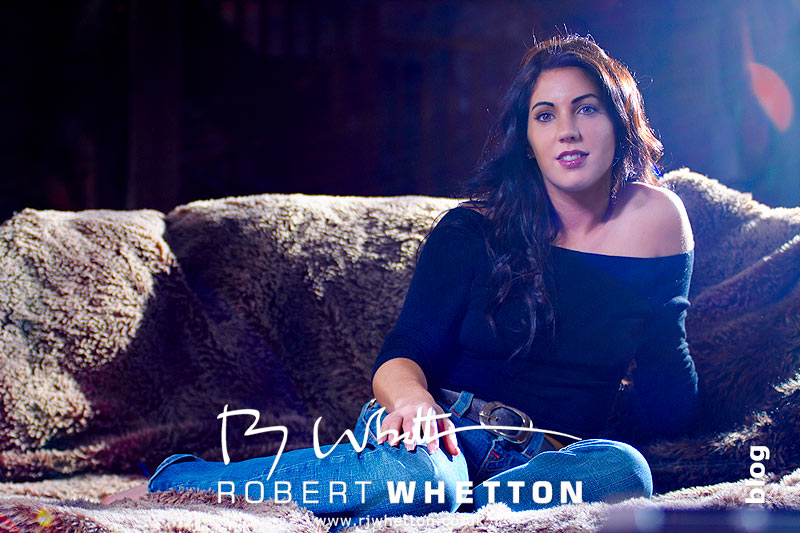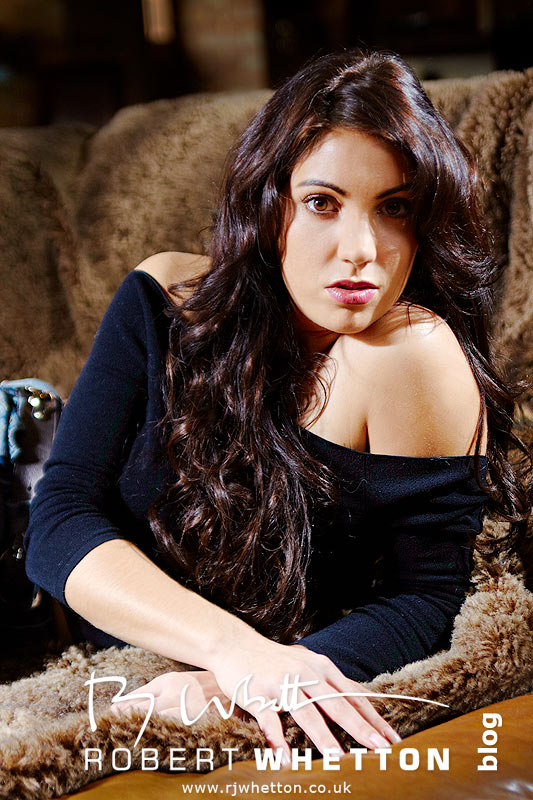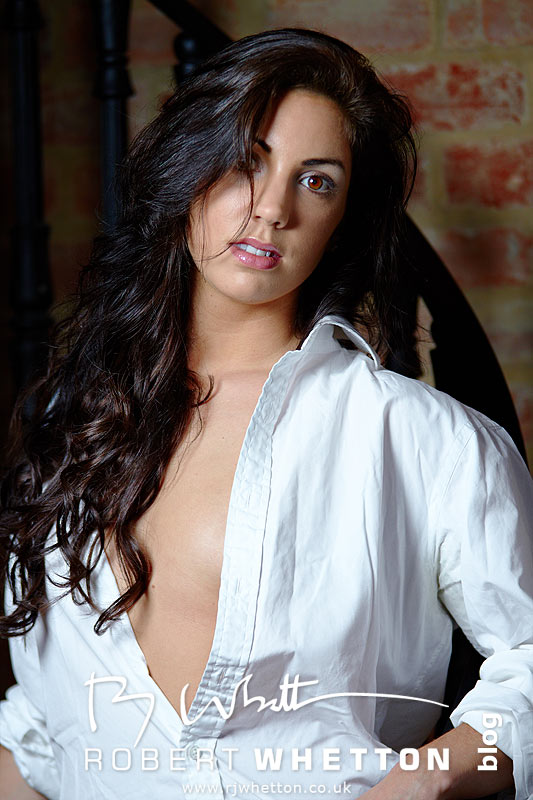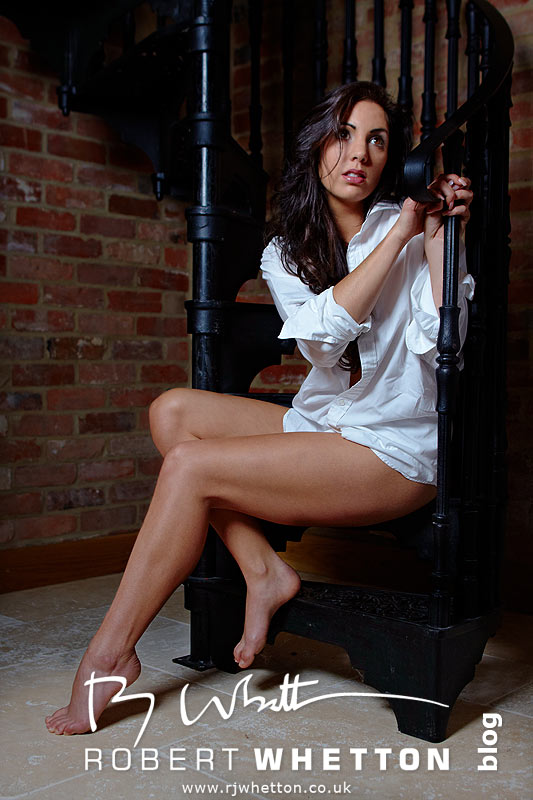 Being invited for something to eat, it must be my lucky day – Pizza Hut. We finish with the staircase and while we're eating, Cheryl has a change of clothes and makeup.
As a thank you to Brian and Isabelle for allowing us to use their house to photograph Cheryl. I took some quick shots of their kids.
The house has an amazing hallway leading from the kitchen to the offices; here I used a single flash to bounce off the wall in the kids playroom through the door to capture Cheryl's next series of photographs. Then its some quick shots outside and we're on the road again! This time we're off to one of Barnaby's clients, the local Porsche garage.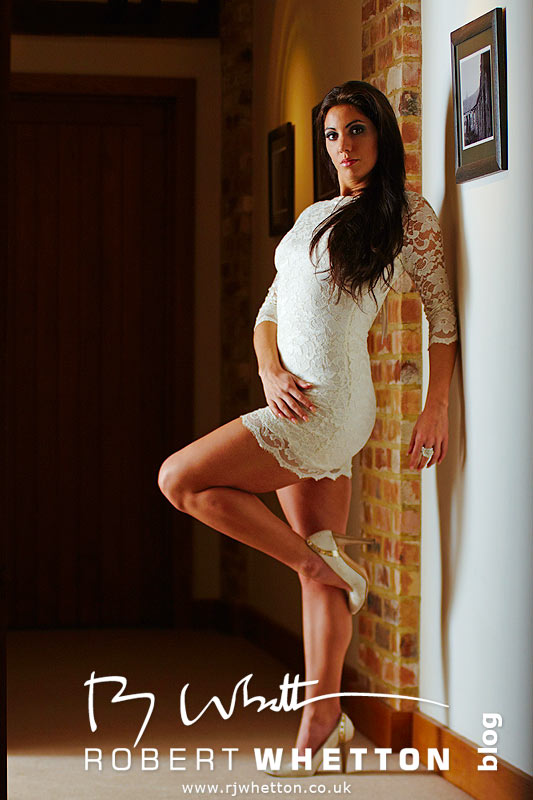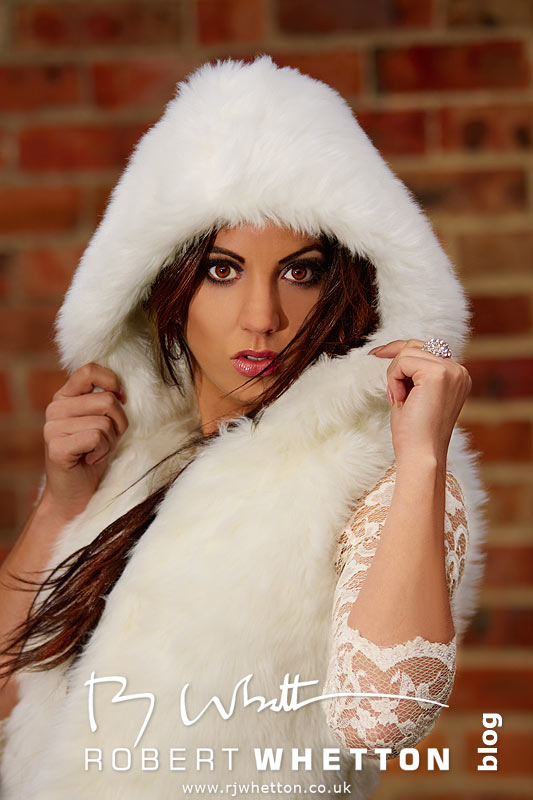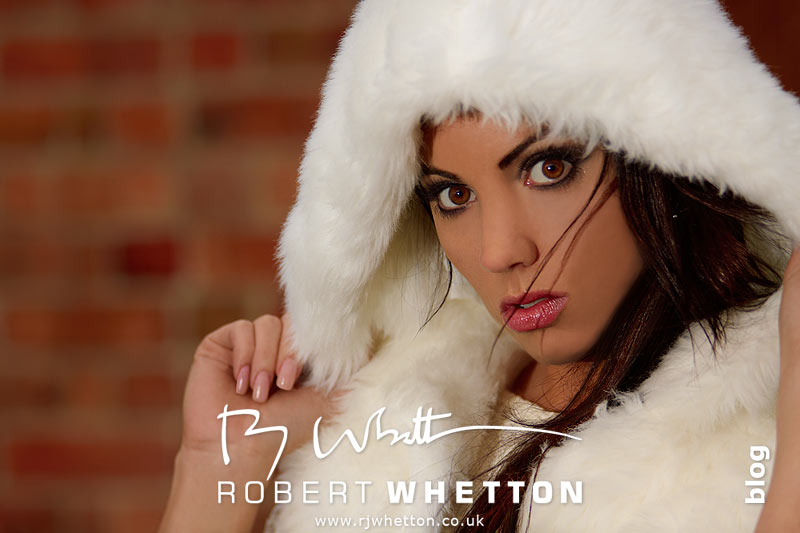 It would seem that Barnaby knows all the right people, we had an exceptional location plus the choice of any of the cars in the showroom! that was until Barnaby's client who is the MD for the dealership left the building… 5 minutes later the director of marketing comes down and tells us that she doesn't think we are giving the right image for customers who are walking into the showroom (we hadn't seen a single customer during the 15 minutes we had already been there). And she asked us to pack up and leave making it a very awkward moment for us. I tried my hardest to try and negotiate another 5 minutes of shooting, but she wasn't going for it, so I grabed a couple more frames and we left it at that. Barnaby was not happy at all and promised to make it up at a later date. After packing the equipment away we headed to Ringwood.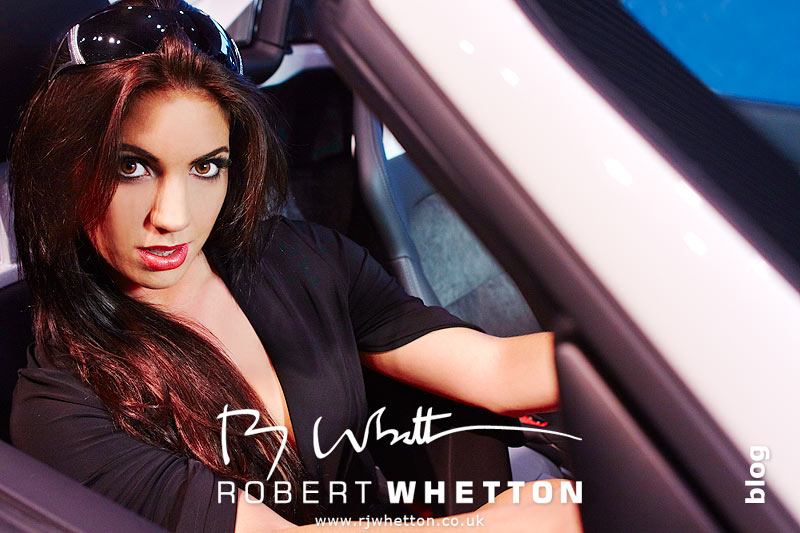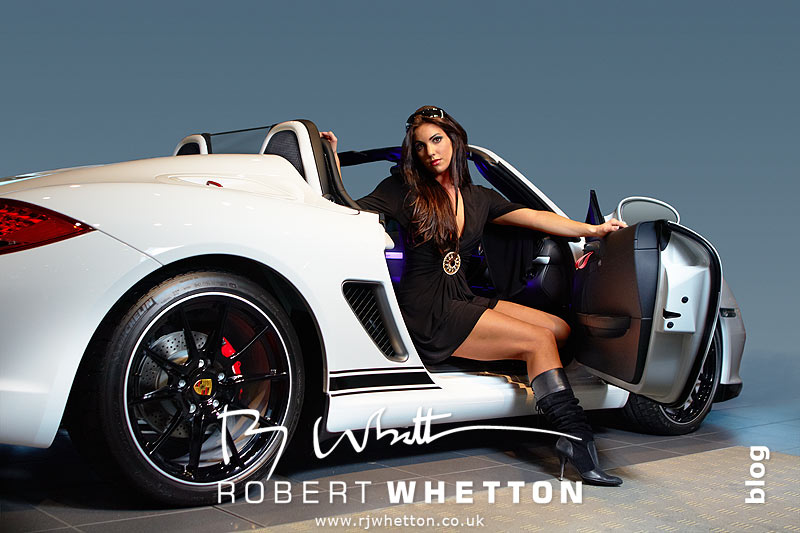 Before shooting began in Ringwood, we popped over the road to Prezzo for a drink. The bar restaurant has favourable decor inside and when I said the upstairs would be a suitable location to shoot, Barnaby was eager to get us some time to photograph as he knew the owner. Unfortunately we weren't able to use the premises at that time as they were open for business, but we could use the place out of hours, which sounded promising.
After our drink we went back to business in the library – easy to fall in love with this place. The leather covered door acted as a great starting point.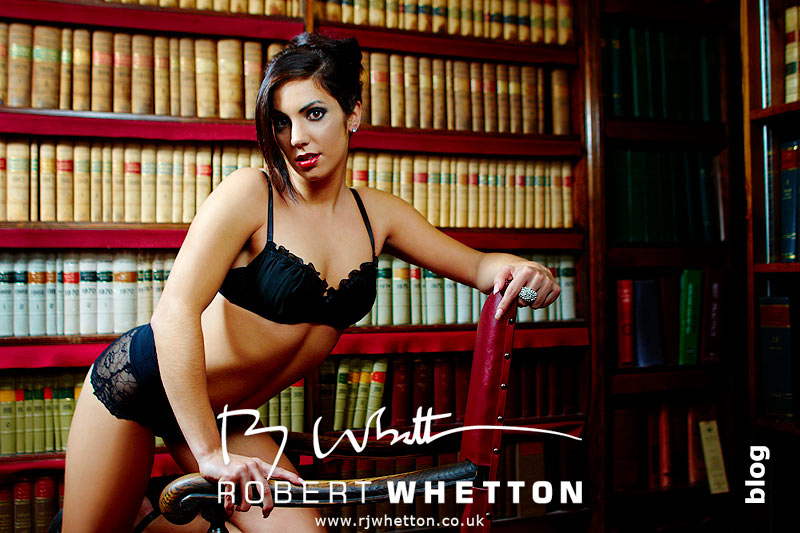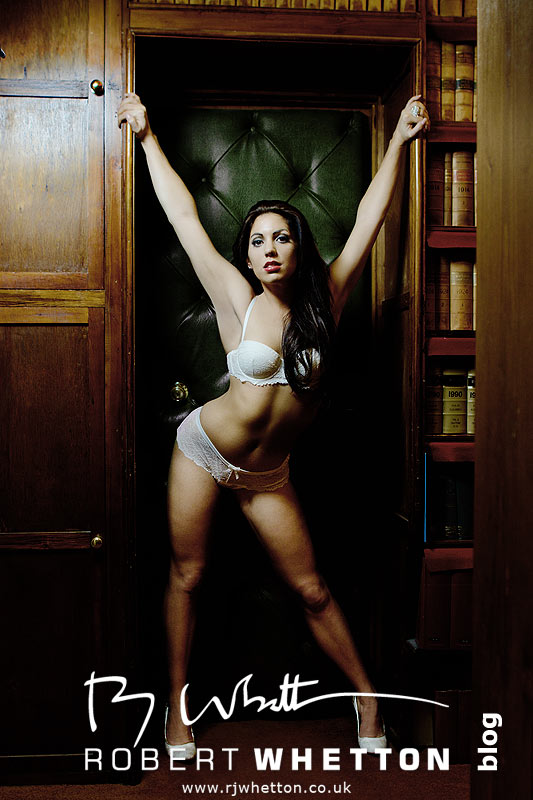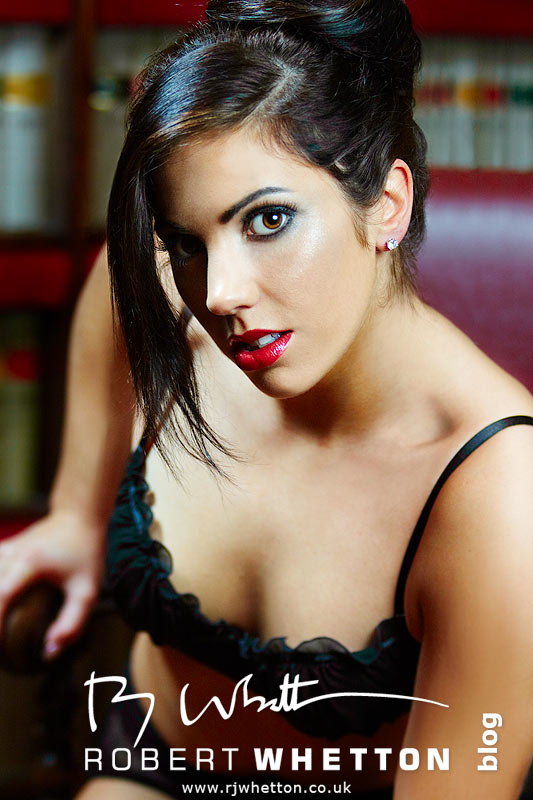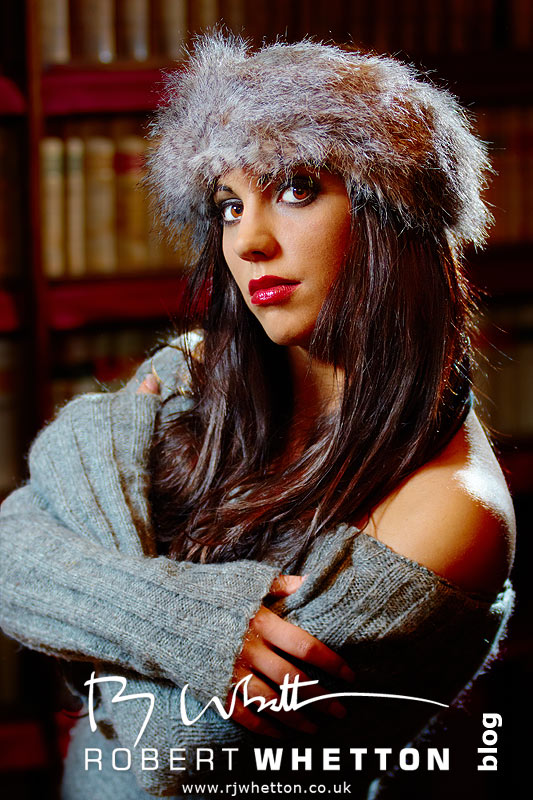 We were nearly finished when Barnaby left us to it to grab some chips. It was a welcome end to the day. A fantastic shoot with awesome people!
2nd Shoot
A couple of days passed before the weather looked good enough to head down on the sand for the sports and bikini shots. Late morning we started with Cheryl running down the beach and doing some other sporty activity providing an opportunity to get her reacquainted with the camera. Kept her warm too because and going down to a bikini on Bournemouth beach in November isn't something you want to be doing every day!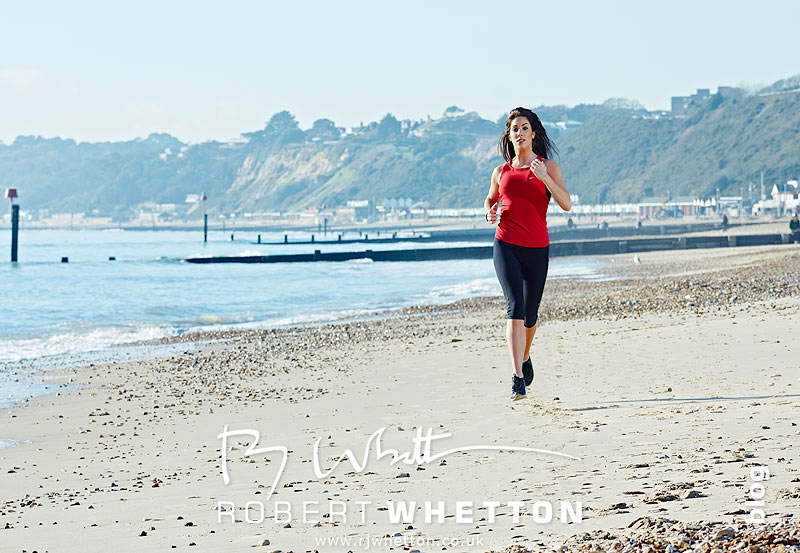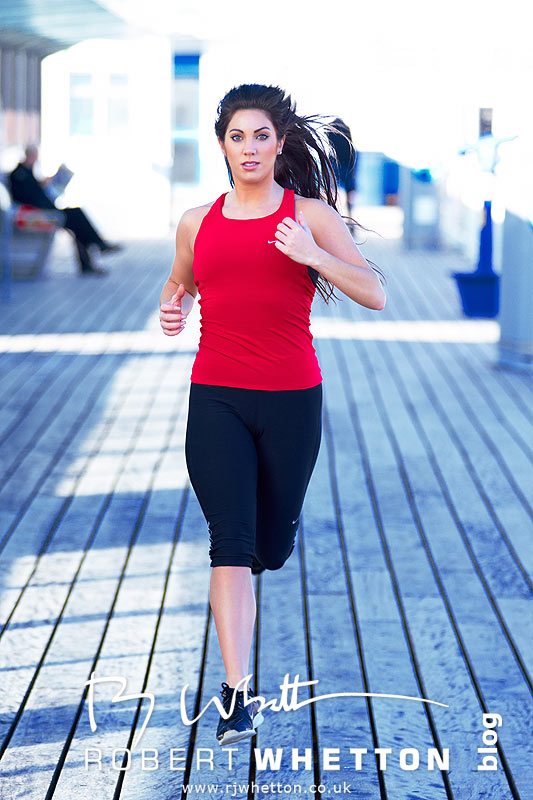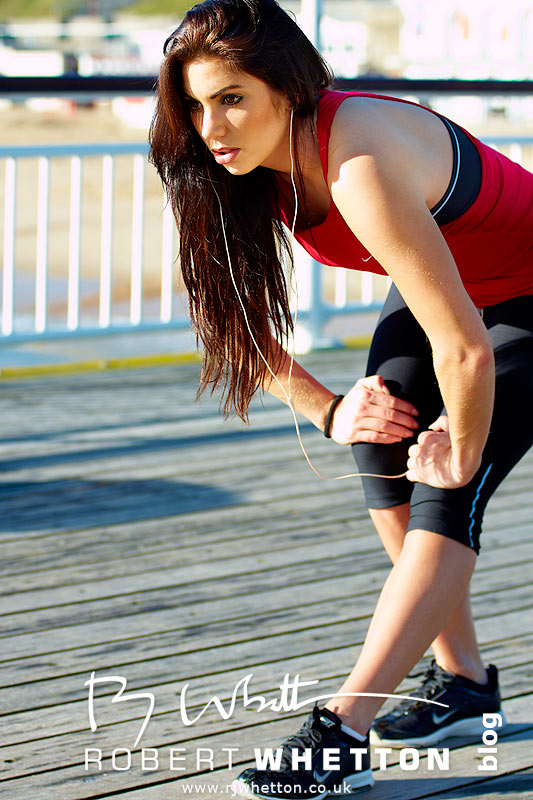 As soon as Cheryl removed her running gear and the bikini came out, surrounding interest perked up. We even had a couple of people trying to video-record her or take pictures using their phones.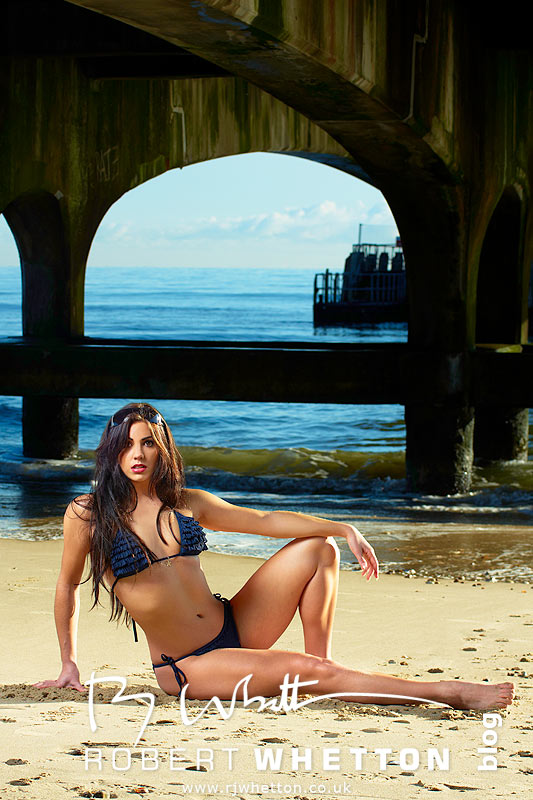 Cheryl was un-phased by the bystanders that were watching. The mark of a true model is not being phased by events happening around you.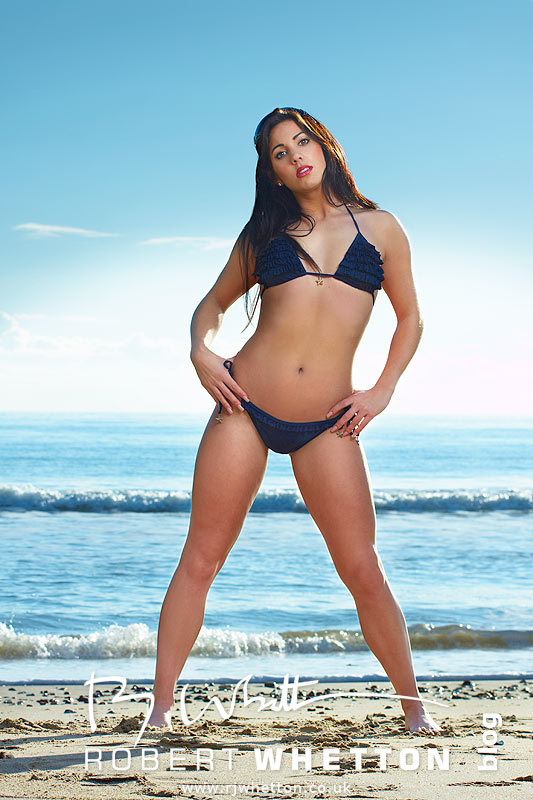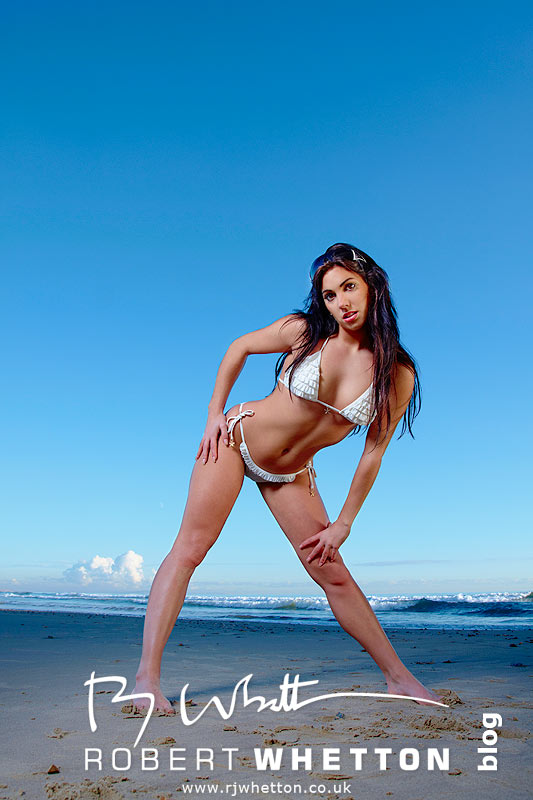 With the help of my female assistant for the day Julie, we managed to get two complete bikini changes in before moving on again to Prezzo in Ringwood. We had a small window in the afternoon to setup and capture some frames before the venue opened. While Cheryl switched her outfit, I re-arranged tables to permit shooting space in which I'd also setup my lighting.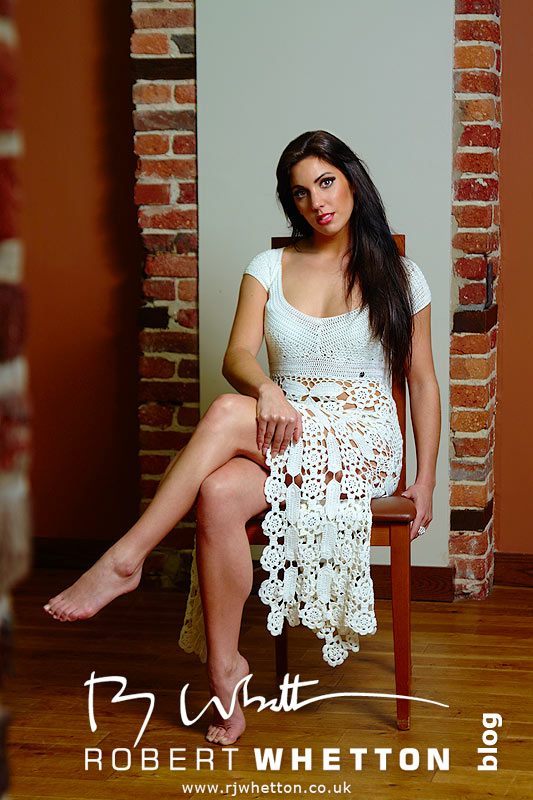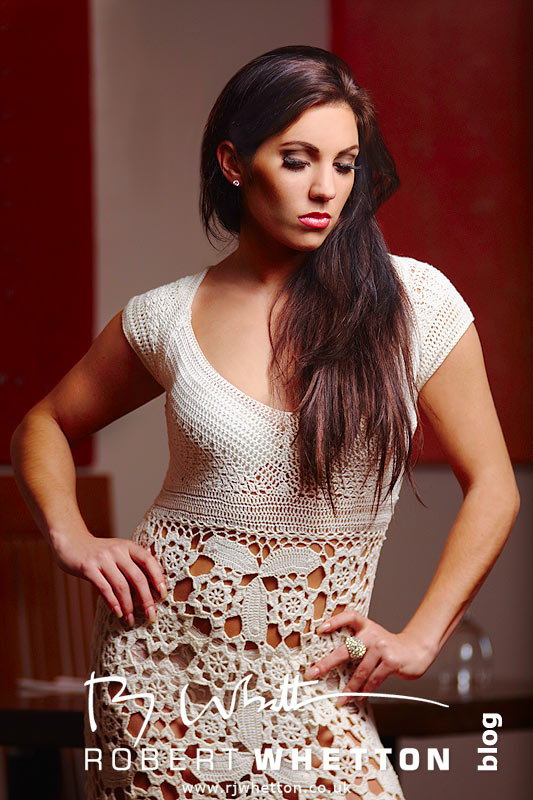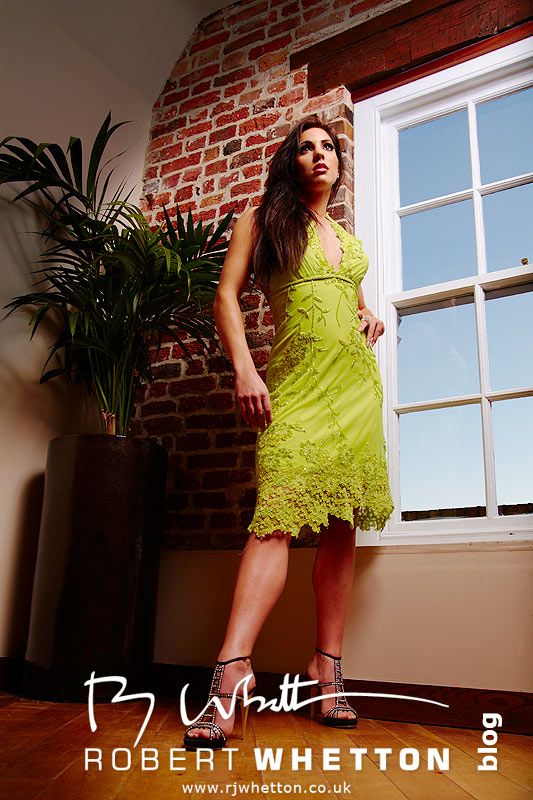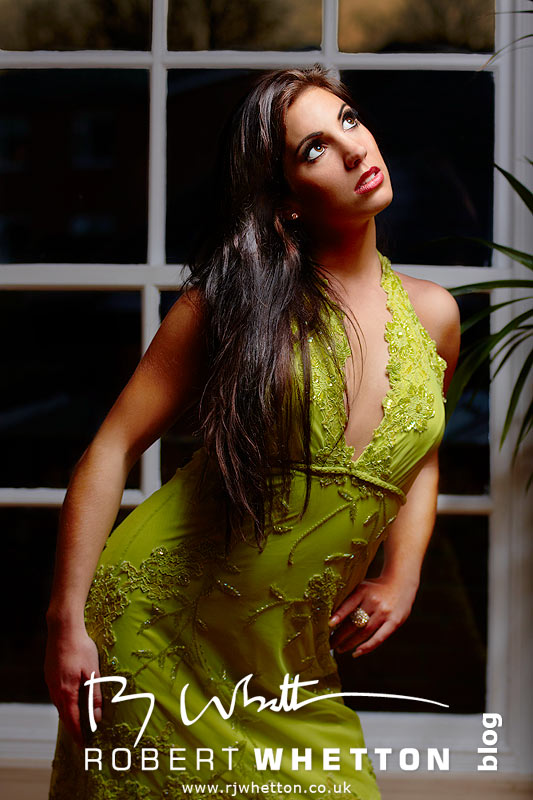 Time flew as we went from one setup to another. We had a last call from one of the waiters signalling me to grab a couple more frames before we called it a day.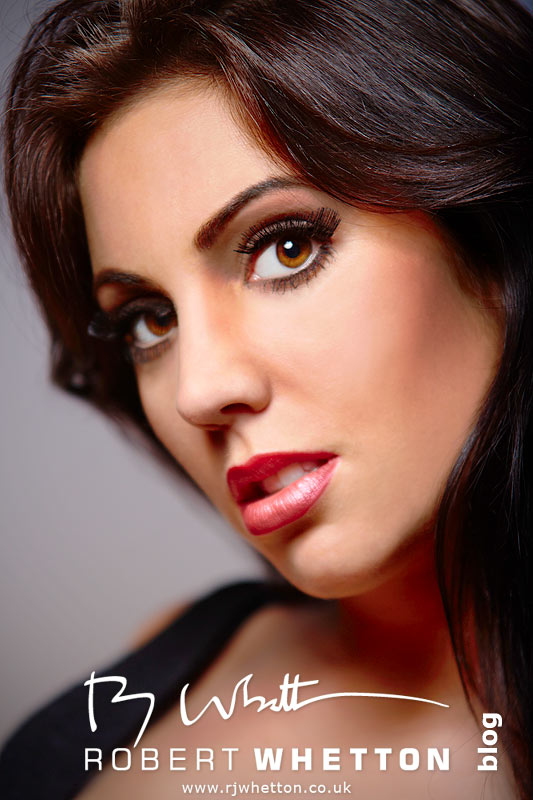 My next couple of days was spent culling photographs and editing the shots. I arranged a meeting with Cheryl to showcase her the shots I had selected and get her initial thoughts. A few replacement images later and a favourable reaction, we were ready to go to print. While her 12x12inch portfolio was being printed I put together a portfolio website for Cheryl with a selection of her pictures.
Final Book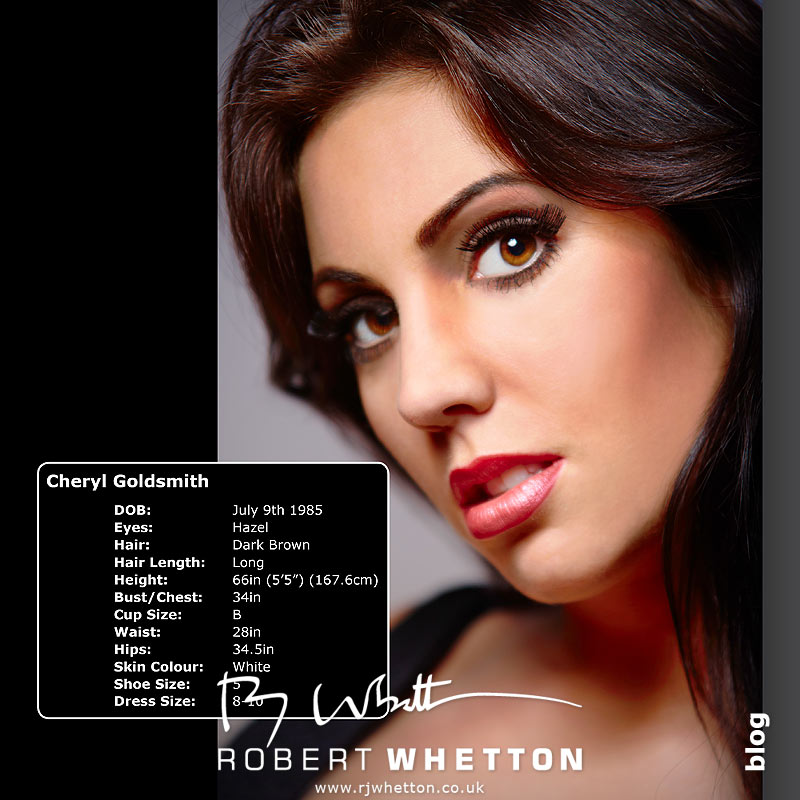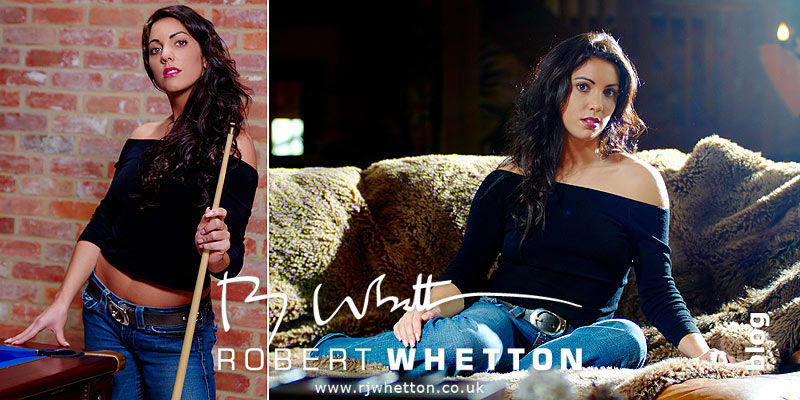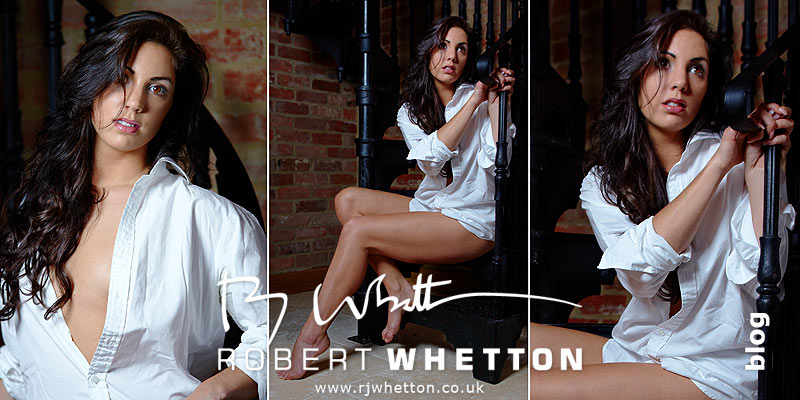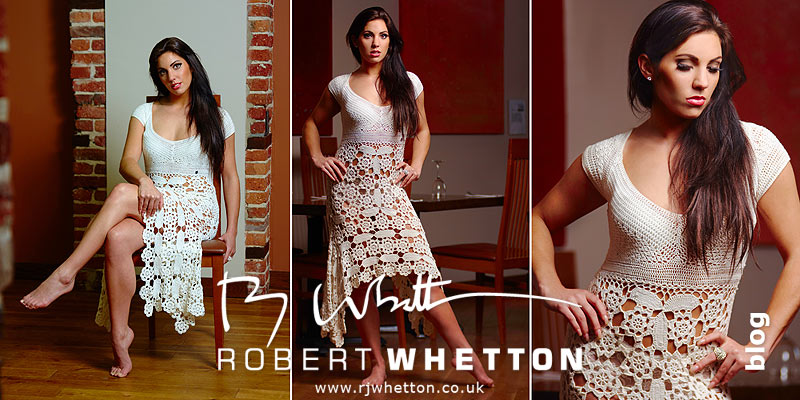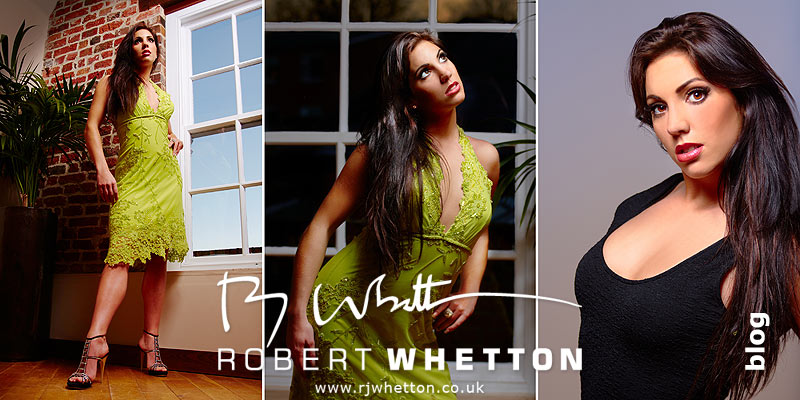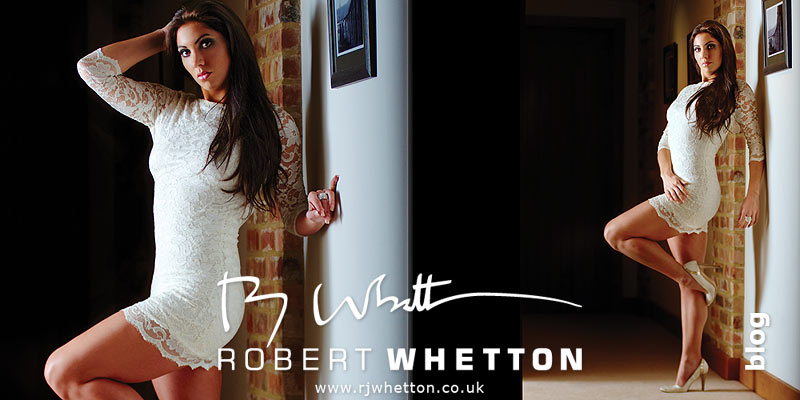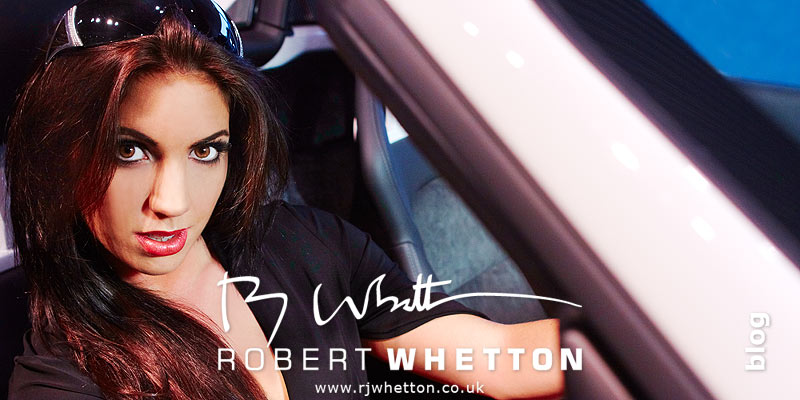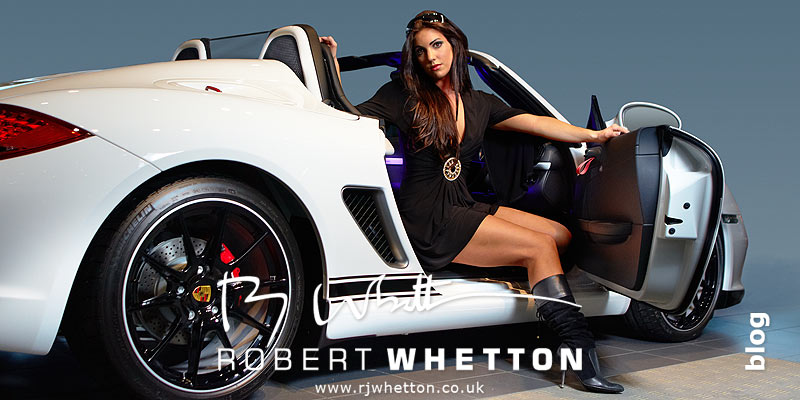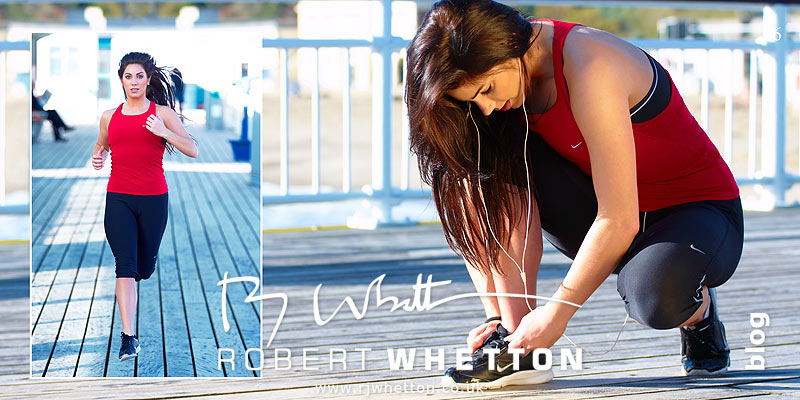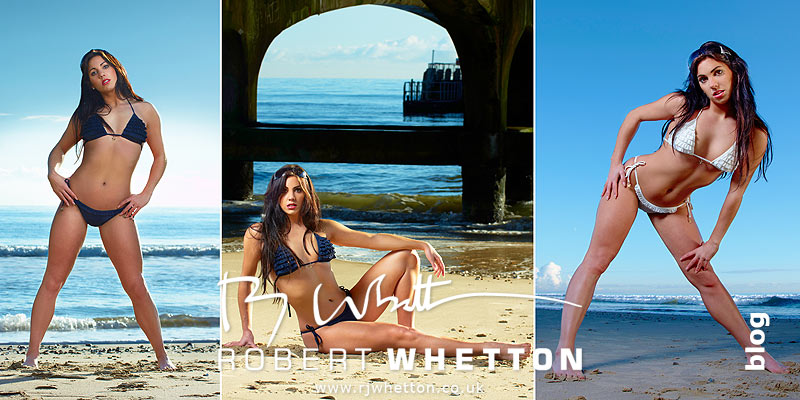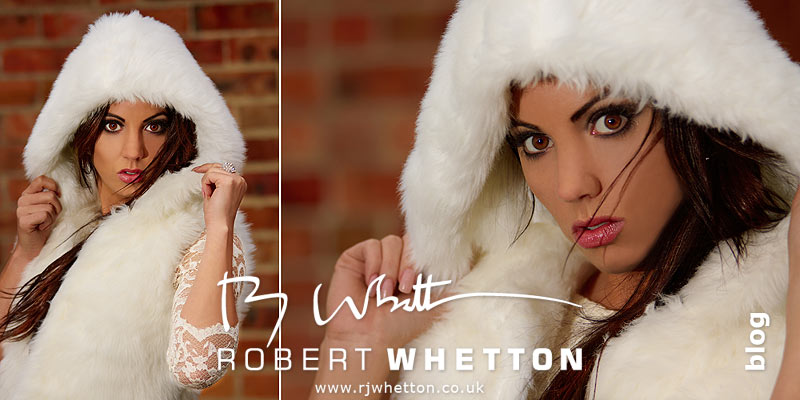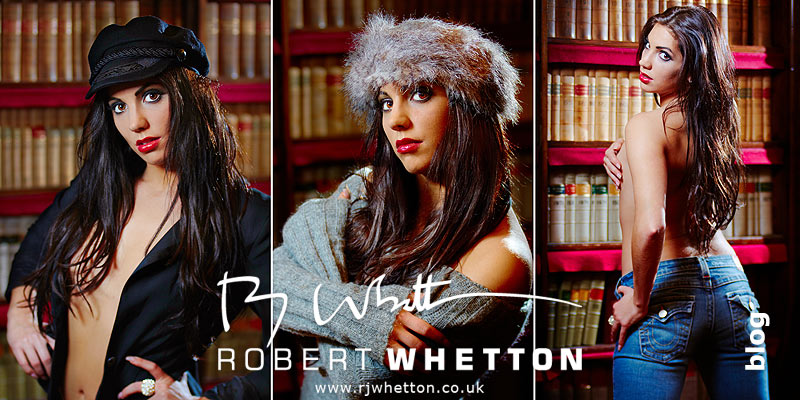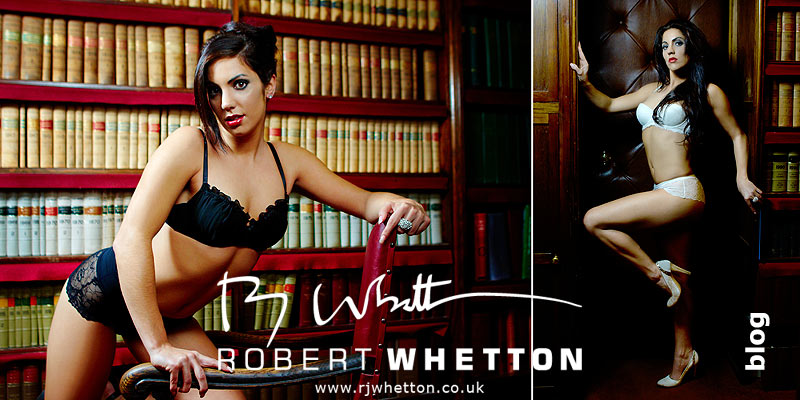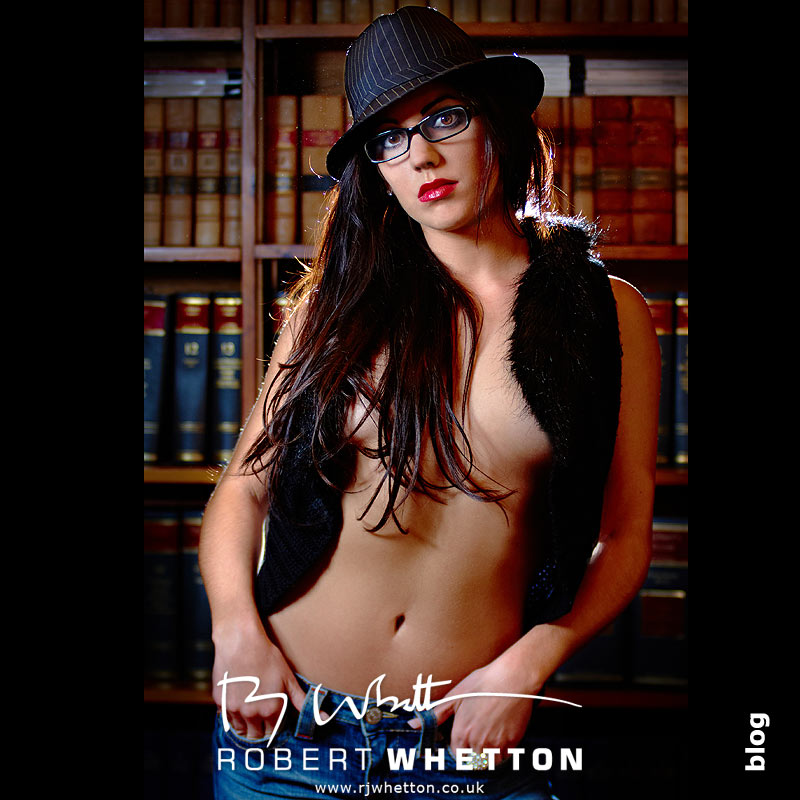 Cheryl still has a way to go until she can be classed as a full fledged model, but the progress she made over the couple of shoots with me shows that she is on her way and she has a killer portfolio to help her on her way!